We are the global business network
building a future without forced labour.
Discover more
News & Events
NEW! An introduction to forced labour of children for businesses.
Go now
The ILO is uniquely placed, through its tripartite structure, global network, and leading expertise on the subject matter, to bring a coalition of actors together under one umbrella.

ILO GBNFL members are businesses of all sizes and sectors, employer and business membership organisations, industry trade groups and sectoral associations. All business-led initiatives with complementary mandates and expertise are encouraged to join as partners.
Learn more
about us
With more, faster & better action we can end forced labour.
We are an umbrella network that brings together businesses and their representative organizations of all sizes and sectors in 187 ILO member States.
Global facts and figures
Almost 25 million people
are in forced labour globally.
Of them, 20.8 million
are working in the private economy, including in private economic activities and commercial sexual exploitation.
Some 4.3 million
are children.
From News
Where forced labour and child labour overlap, children are in forced labour. This brief provides an introduction to the issue ...
From News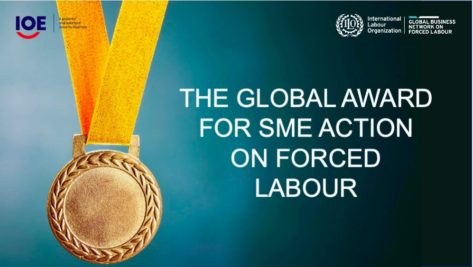 The award showcases inspiring actions by SMEs breaking new ground to fight forced labour.
It's never been easier to stay up to date.
Our quarterly Newsletter provides all the latest updates on forced
labour initiatives and shareable content you need.
Listen to our latest podcasts! Forced labour is linked to child labour, environmental degradation, climate change & illicit trade. What does this mean for eradication?
Listen to
the podcast
From Library
From Library
Now on Twitter
#ForcedLabour#FutureWithoutForcedLabour#EndModernSlavery#Achieve87 #EndChildLabour2021